July 25, 2023
It seems an easy question to answer, but is it? As children, we're asked throughout our childhood, "What do you want to be when you grow up"? From about age three to age ten, we typically have various ideas of what we want to be when we grow up, which may be realistic or fanatical. Still, it isn't until we hit our later teens that we start genuinely pondering what makes up or "defines" who we are.
For many of us, as we enter early adulthood, this nagging question of "who am I" takes on new life and begins nagging at our thoughts as we sift through a myriad of possible career options. Many choose career or college paths out of personal curiosity or interest rather than intentionally desired long-term career beginnings. For instance, I chose fine art as my college major, only to drop it once I realized I'd likely live a life of poverty if I didn't continue to a Master's or Ph.D., which led me to move my psychology minor to a major only to graduate and never pursue that actual career pathway either. I chose psychology because it was an exciting topic and satisfied my curious mind, but it did nothing by way of fulfilling my still undefined/undetermined long-term career path. My problem was I hadn't defined who I was. I was living out of my mental curiosities instead of seeking the authentic, defining qualities within myself. I failed to evaluate who I was on the inside during that time.
__________________________________________________
hc1 welcomed nine interns this summer to our team who have spent their time experiencing career growth as individuals and shared their talents and creativity with our team. Check out this video interview with hc1 2023 summer interns as a few shared their experiences, self-revelations and what's next for them as they continue their lives beyond hc1!
__________________________________________________
So, back to what defines us as individuals. Are we defined by what we do or who we know ourselves to be? How do we discover who we are?
I recently watched a documentary about a pop band from the 80s. The lead singer knew he wanted to be in a band at an early age and discovered he was a great songwriter who went on to lead both his band, as well as his solo career to global success, but there was a sacrifice. Who he was as a person unto himself was undefined for the first few decades of his life and career and caused him a lot of inner conflict and hardship during that time.
Knowing who you are is pivotal to how you move forward in both your life and career. Finding your strengths and knowing who you are within your core values can help guide your path and make it a more straightforward self-revelation.
The renowned philosopher Cornel West, a personal favorite of mine, teaches that knowing one's self is our highest job as human beings, and it is a lifelong discovery as we travel through life's journey. "Looking at humanity through a philosophical lens allows us to understand our egotistical proclivities better, resulting in becoming the best versions of ourselves," West said in his Master Class on What It Means to Be Human.
To help identify who you are at your core, instead of looking on the outside at what you "do," look within yourself and determine what you believe and value within yourself as a person. What attributes do you think are the most vital qualities about you and that you know are foundational pillars of who you are? What standout qualities in your day-to-day existence are in play with how you interact with others and behave? What motivation brings you into action? What entices you to engage in something?
By starting with that train of thought, you can quickly pinpoint descriptive words that help identify and ultimately define who you are. Begin with a single attribute, such as "trustworthy," "competent," or "adaptable," to get in the mindset of connecting descriptive terms that you align with as your core definition. Then you can continue building upon those terms with constructed mantras that help you drill down further for more polished definitions of who you are.
As graduation season continues and new career pursuits begin by advancing to higher college-level courses or breaking into first jobs and career paths, knowing who you are first will enable you to find a roadmap that combines your foundational qualities and ultimate job fulfillment, allowing you to feel cohesive in both who you are and what you do.
As the summer begins to wind down at hc1, we wish our interns the best as they take the next steps in their journey.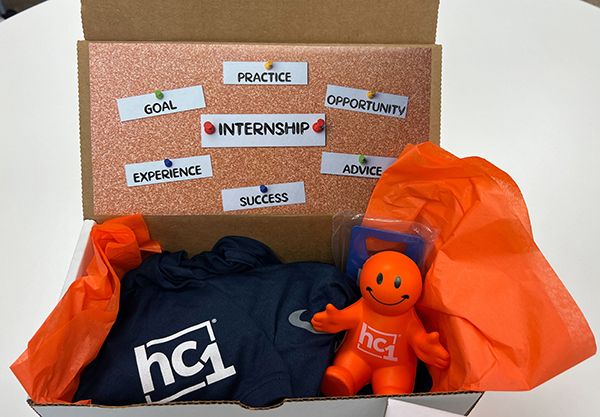 ________________________________________________________________________
Lorri Markum is the marketing manager for hc1 Insights and has over two decades of corporate and nonprofit marketing leadership experience. Lorri specializes in B2B marketing and is SEO Certified. A graduate of Ball State University with a degree in psychology, digital communications and storytelling. For the past 25 years, Lorri has been a professional commercial photographer and photojournalist in the music industry. Before joining hc1 she served as the marketing manager for a nonprofit healthcare organization, serving 40 counties throughout Indiana.