September 6, 2023
The advice for reducing overweight conditions from doctors, allied health professionals and health promotion advocates is the same: "Preventing and managing obesity through a balanced diet and regular physical activity is the pathway to your success!" Well, that doesn't seem to be working very well for the US population, as the evidence in the images below demonstrates. Access to self-help diet books, fad diets, exercise programs, gym memberships, and health promotion professionals appears to be significantly increasing as obesity statistics worsen. Access to fatty fast foods, overeating, and sedentary lifestyles with little physical activity all seem to be increasing faster than the success of health promotion activities. Children today play video games much more often than playing, running and bicycling outside than previous generations.
And for those that do diet and increase their activity and exercise, the path can be frustrating and defeating. A successful diet regime requires several critical factors that all seem to be needed and maintained: behavioral changes in physical activity and mindful eating; support and accountability to self and others; realistic goals; and sustained lifestyle modification so the weight does not return to the obese baseline. That is a tough formula.
The prevalence of obesity among the US population is astonishingly high according to CDC statistics (most recently reported for 2021.)* Body Mass Index (BMI) is the typical measure of reporting statistics on weight in the population. BMI is the measure of an adult's weight in relation to his or her height, calculated by using the adult's weight in kilograms divided by the square of his or her height in meters.
BMI =

Weight in Kilograms




Height in Meters
Obesity is defined by the CDC and most medical experts define obesity as a Body Mass Index (BMI) of 30 kg/m2 or higher. The CDC calculates and reports its obesity statistics based on the data collected through the Behavioral Risk Factor Surveillance System (BRFSS), an ongoing, state-based telephone interview survey conducted by state health departments with assistance from CDC. According to this methodology, the state data is reported out accordingly: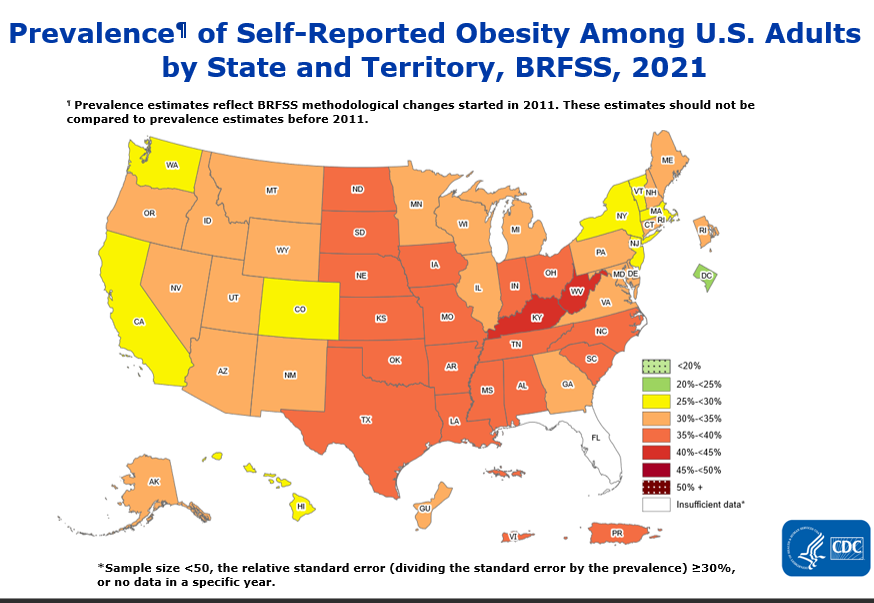 Summary
No state or territory had a prevalence of obesity less than 20%.

The District of Columbia had a prevalence of obesity between 20% and <25%.

8 states had a prevalence of obesity between 25% and <30%.

22 states and Guam had a prevalence of obesity between 30% and <35%.

17 states (Alabama, Arkansas, Indiana, Iowa, Kansas, Louisiana, Mississippi, Missouri, Nebraska, North Carolina, North Dakota, Ohio, Oklahoma, South Carolina, South Dakota, Tennessee, and Texas), Puerto Rico and Virgin Islands had a prevalence of obesity between 35% and <40%.

2 states (Kentucky and West Virginia) had a prevalence of obesity of 40% or greater.



Compared to the data 2011 map calculated by the same methodology of the BRFSS, it is extraordinary how rapidly the epidemic of obesity is accelerating in the US: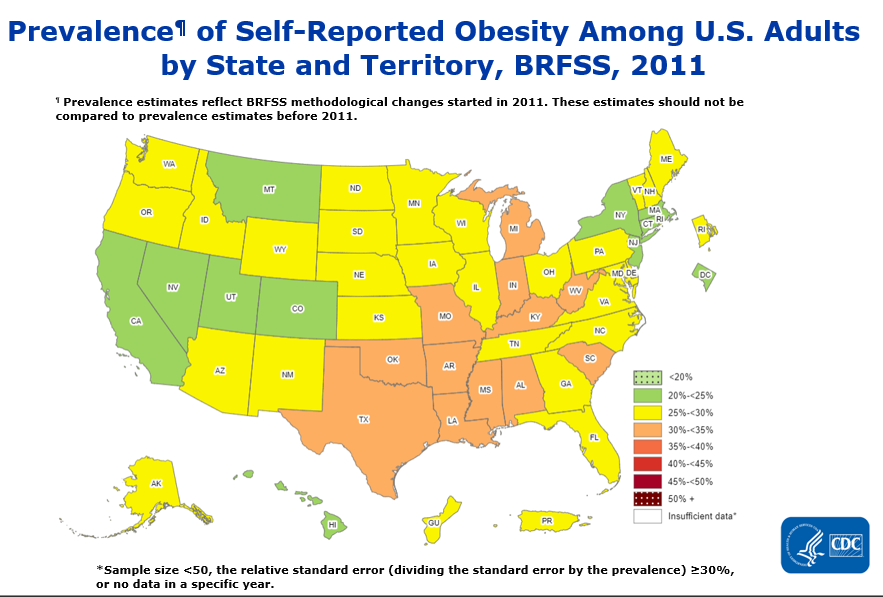 Summary
All states and territories had a prevalence of obesity less than 35%.
Looking back even a bit further, the accelerating trend is even more pronounced: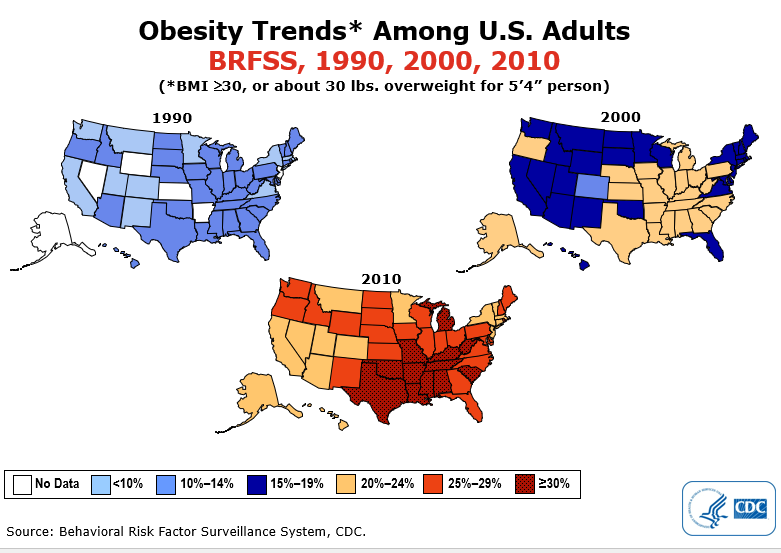 ********************
The significance of this "Obesity Epidemic" is magnified when understanding that obesity is a significant risk factor in many acute and chronic disease conditions, and it increases the risk of developing various diseases. These include*:
Acute Health Conditions:
Acute Respiratory Distress Syndrome (ARDS): Obesity can increase the risk of developing ARDS, a severe lung condition often associated with respiratory failure.
Deep Vein Thrombosis (DVT): Obesity is a risk factor for the formation of blood clots, including DVT, which can lead to serious complications if not treated promptly.
Gallbladder Disease: Obesity is a risk factor for the development of gallstones, which can cause acute pain and inflammation in the gallbladder.
Sleep Apnea: Obesity is a major risk factor for obstructive sleep apnea, a condition characterized by interruptions in breathing during sleep, leading to daytime fatigue and other health problems.

Chronic Health Conditions:
Type 2 Diabetes: Obesity is one of the leading risk factors for the development of type 2 diabetes, a chronic condition that affects blood sugar regulation.
Cardiovascular Disease: Obesity increases the risk of heart disease, including hypertension (high blood pressure), coronary artery disease, and stroke.
Metabolic Syndrome: Obesity is often a component of metabolic syndrome, a cluster of conditions that increase the risk of heart disease, stroke, and type 2 diabetes.
Certain Cancers: Obesity is associated with an increased risk of several types of cancer, including breast, colorectal, endometrial, and kidney cancer, among others.
Osteoarthritis: Excess weight can put added stress on joints, leading to osteoarthritis, a degenerative joint disease that causes pain and reduced mobility.
Fatty Liver Disease: Non-alcoholic fatty liver disease (NAFLD) is common in obese individuals and can progress to more severe liver conditions, such as non-alcoholic steatohepatitis (NASH) and cirrhosis.
Chronic Kidney Disease: Obesity is a risk factor for chronic kidney disease, which can lead to kidney failure.
Depression and Mental Health Issues: Obesity is associated with an increased risk of depression, anxiety, and other mental health disorders.
Reproductive Issues: Obesity can affect fertility and increase the risk of complications during pregnancy, such as gestational diabetes and preeclampsia.
Gastrointestinal Disorders: Obesity can contribute to gastroesophageal reflux disease (GERD), gallbladder disease, and other gastrointestinal issues.
* Harrison's Principles of Internal Medicine, McGraw-Hill Publishers, (21 edition), 2022: various chapters:https://accessmedicine.mhmedical.com/searchresults.aspx?q=obesity%20risk%20factors&f_BookID=3095&adv=True&bookSearch=True
********************
A Cavalry Bugle Call is Heard over the Horizon
For patients and physicians alike, a new class of drugs has appeared like a Cavalry Charge in a battle almost lost to Obesity. This class of drugs is called: "GLP-1 agonists" ( glucagon-like peptide 1 (GLP-1) receptor agonists. )
Before looking at this class of drugs more specifically, let's list the other drug classes previously approved by the FDA for weight reduction. Many have been saddled with a poor clinical track record and numerous adverse patient outcomes, making physicians cautious to prescribe or recommend them.
These medications require a prescription from a doctor and should only be taken under close medical supervision.
Orlistat

(Xenical)

Phentermine/topiramate (Qsymia)

Naltrexone/bupropion (

Contrave

)

Setmelanotide (Imcivree)

Appetite suppressants, including

phentermine

(Adipex-P or Lomaira)
These medications should be combined with a balanced weight loss diet, as alone, they're not likely a helpful long-term solution for obesity and may lead to weight regain over time. They also have many possible side effects, some of which can be serious.
********************
* https://www.niddk.nih.gov/health-information/weight-management/prescription-medications-treat-overweight-obesity
Compared to the above weight loss drugs, GLP-1 agonists have been celebrated in the medical literature as a new breakthrough in both weight reduction and the reduction of risk from disease conditions associated with obesity. Two GLP-1 agonists have been approved for weight loss, including liraglutide (Saxenda) and semaglutide (Wegovy). Both are available as a self-administered injection, but liraglutide is administered once daily, while semaglutide is only injected once per week.
********************
*Note: Pricing information from GoodRX.com above is current as of publication but is subject to change. Also, remember that out-of-pocket costs can vary depending on insurance coverage.
********************
GLP-1 agonists are only available through a prescription from a doctor or other qualified healthcare professional. GLP-1 agonists work by slowing the emptying of the stomach, increasing feelings of fullness, and reducing the secretion of glucagon, a hormone involved in regulating appetite.
Common side effects are generally mild and include constipation, nausea, vomiting, diarrhea, dizziness, headaches, increased heart rate, infections, and indigestion.
Though uncommon, severe side effects have also been reported, which may require medical attention. These include kidney problems, thyroid C-cell tumors, gallbladder disease, low blood sugar, and suicidal ideation. Therefore, these medicines should be used under regular medical check-ups with your physician.
Contraindications to these medications are infrequent and are not recommended for people with multiple endocrine neoplasia (MEN) syndrome type 2, history of thyroid cancer or pancreatitis, pregnancy, and current use of certain prescription medications.
Effectiveness of GLP-1 Agonists:
In the STEP 1 Trial **, researchers found that a weekly 2.4 mg dose of semaglutide was associated with a 14.9% reduction in body weight among participants with overweight or obesity vs. a 2.4% reduction with placebo. It was also associated with improved BP, fasting plasma glucose and lipids.
**Wilding JPH, et al. N Engl J Med. 2021; doi:10.1056/NEJMoa2032183
Another small study found that people taking liraglutide lost an average of 17.2 lb (7.8 kg) over six months. ***
***https://pubmed.ncbi.nlm.nih.gov/33466127/
In a follow-up study*, the researchers used treatment eligibility criteria and treatment effects from the STEP 1 trial to estimate the impact of semaglutide treatment on obesity prevalence and CVD events within the U.S. population. The analysis included data on 19,225 participants from the 2015 to 2018 U.S. National Health and Nutrition Examination Survey (NHANES).
Overall, according to the researchers, 3,999 participants fit the STEP 1 eligibility criteria for treatment, translating to a population size of 93 million, or 38% of U.S. adults.
* Wong, N.D., Karthikeyan, H. & Fan, W. US Population Eligibility and Estimated Impact of Semaglutide Treatment on Obesity Prevalence and Cardiovascular Disease Events. Cardiovasc Drugs Ther (2023). https://doi.org/10.1007/s10557-023-07488-3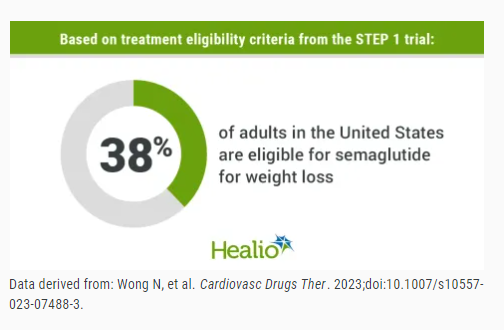 Among the 3,999 participants, 3,493 had no prior Cardiovascular Disease Events (CVD) and were eligible for a 10-year CVD risk estimation. The researchers found that applying STEP 1 treatment effects resulted in
86.4% of adults losing 5% or more body weight,

69.1% losing 10% or more body weight, and

50.5% losing 15% or more body weight
Based on this, the researchers estimated that semaglutide could reduce the obesity prevalence by 46.1% in the U.S., leading to 43 million fewer people with obesity. In addition, 16.8% of the study cohort would be reverted to the normal weight category, representing 17.5 million U.S. adults.
Meanwhile, the estimated 10-year risk for CVD was reduced from 10.15% to 8.34% following treatment, amounting to a 1.81% overall risk reduction and 17.8% relative risk reduction. This translates to 1.5 million fewer CVD events over ten years, with most preventable cases among men (2.2%) and white individuals (2.01%).
The Bottom Line
Are the GLP-1 Agonists the "magic shot" in the long, frustrating battle with obesity and its concomitant associated clinical illnesses (diabetes, CVD, stroke, etc.)? They have a significant impact on weight reduction over a relatively short duration of a few weeks to a couple of months. But even more important is the study above estimating the 10-year relative risk reduction of CVD by 17.8%. This savings in the productive life of the US workforce and the reduced medical cost of treating America's #1 disease entity would profoundly impact our society and economy.
So, what is the hold-up? Answer…the cost of the drug!
Currently, these drugs are expensive, as pharmaceutical companies try to recover their research costs and know they can charge a high price for a heavily sought-after product. GLP-1 Agonist drugs and obesity treatments are generally not covered by public or employer health plans. Like Gastric bypass surgery, the health plans feel that weight reduction programs, medications, and surgery are "elective" and/or experimental (unproven benefit) and, therefore, are a "non-covered benefit" to the insured patient.
However, These new studies will be highly debated as they challenge the idea that GLP-1 Agonists remain "experimental or non-proven" therapies. More studies like Wong's will soon make the point in medical circles that GLP-1 Agonist medications are safe and effective ways to reduce overall healthcare costs and reverse the epidemic obesity trend discussed in the early part of this article. Employers likewise will need to re-examine whether it is well worth the cost of adding these treatments into their medical insurance "covered benefits." It will keep their employees healthier. And isn't that what an employer would want to do so they protect their most valuable corporate asset…their workforce talent?
______________________________________________________________________________________________________________
Peter J. Plantes, M.D., FACP, is one of hc1's Clinical Advisors and has three decades of experience creating service and delivery solutions that enhance marketplace success and clinical performance for clinical practice groups, academic faculty group practices, hospitals, health systems, and healthcare organizations. His success stems from his ability to blend and synergize clinical knowledge, operational expertise, financial performance, and collaborative methodology with his deep commitment to serving patients and improving community health.
Dr. Plantes has served as a Physician Executive and CEO for several large healthcare clinical delivery networks, including regional community networks, academic practices, national hospital networks, international health systems (Chile, Colombia), and corporate managed care/HMO networks.