August 11, 2020
This week the "top 10 " counties we are tracking for a rapidly expanding challenge from the spread of COVID-19 has shifted to include two Ohio counties, as well as counties in Colorado, California, Maryland, Michigan, California, Wisconsin, Pennsylvania and Oklahoma.
Top 10 Counties with the Largest Magnitude of Change determined by LRI x '7vs7' rate for August 10, 2020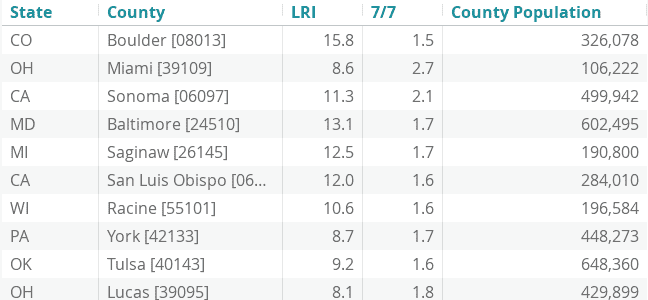 The "top 10" counties we have identified have a population >100,000, more than 100 COVID-19 viral tests performed in the past week, an hc1 Local Risk Index™ (LRI) >7, and an acceleration factor of LRI equal to or greater than 1.5 (see this earlier post for a full explanation of LRI).
The CV19 Lab Testing Dashboard™ powered by hc1 provides hyperlocal insights for all 3,007 counties in the United States including index factors that can indicate a rapid increase in the percent positivity [% (+)] of SARS-CoV-2 viral tests.
For a community of 100,000, a rapid rise in the presence of positive COVID-19 viral testing is the earliest indicator that ER, hospital, ICU, ventilators, and other medical resources (clinical providers, PPE, facilities, etc.) will be heavily taxed in the next 10 to 21 days. The community that has the largest acceleration in positive tests week-over-week will see the fastest rise in the magnitude of COVID-19 cases.
Visit www.CV19Dashboard.org for more hyperlocal insights and your county's current CV19 LRI.
About the Author
Peter J. Plantes, M.D. has three decades of experience creating service and delivery solutions that enhance marketplace success and clinical performance for clinical practice groups, academic faculty group practices, hospitals, health systems, and health care organizations. His success stems from his ability to blend and synergize clinical knowledge, operational expertise, financial performance, and collaborative methodology with his deep commitment to serve patients and improve the health of the community. Dr. Plantes has served in CEO & Physician Executive roles for a number of large healthcare clinical delivery networks including regional community networks, academic practices, national hospital networks, international health systems (Chile, Colombia), and corporate managed care/HMO networks.