09/10/2020
COVID-19 County Hotspots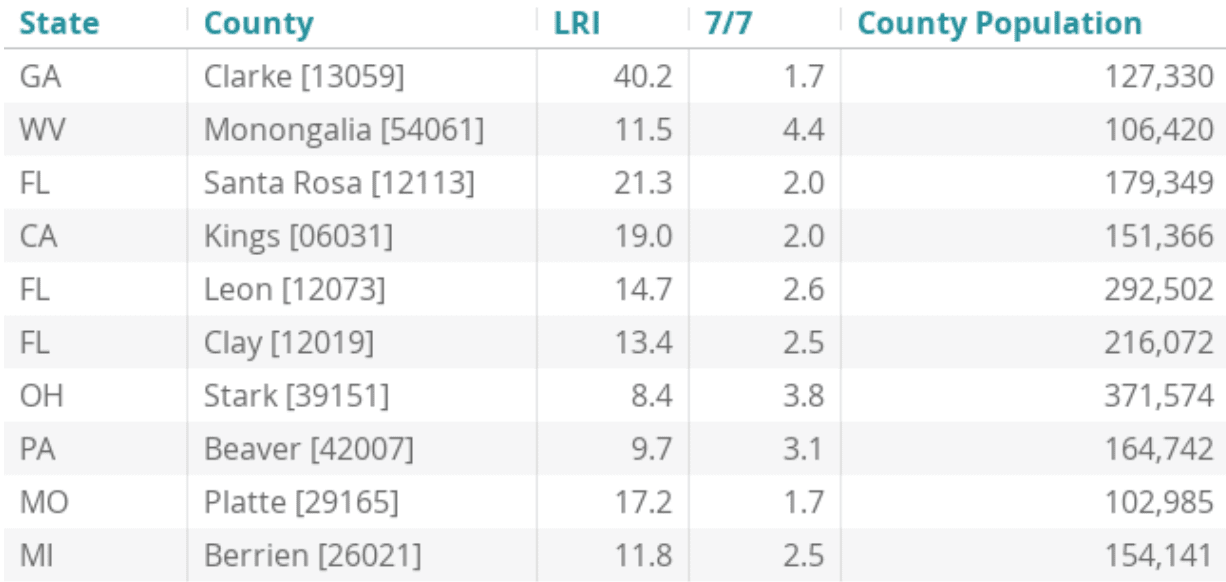 While the State of Georgia as a whole rests at a moderate 13.7 Local Risk Index (LRI) for COVID-19 positive (+) prevalence on viral testing, the Athens Region of Clarke County has seen a 1.7 times increase in the current 7-day LRI average vs. the Previous 7-days.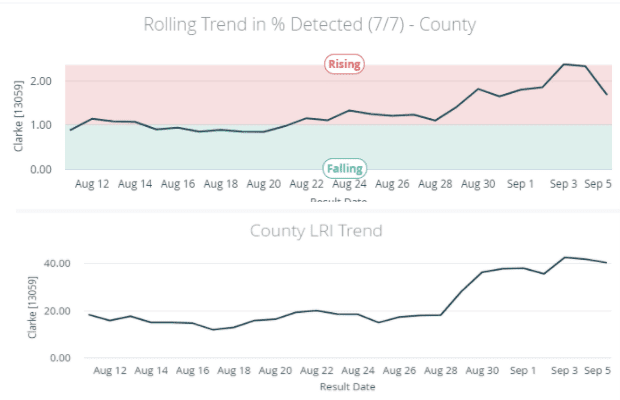 The LRI is now 40.2 and this makes it one of the fastest-growing local epidemics of COVID-19 in the US across all monitoring services. This is explained by one local element in this relatively smaller city. It is home to the University of Georgia. Since the return of 39,000 students to town on August 16th, the 5 prevalence of viral tests has doubled. On Wednesday, the University of Georgia reported 1,417 COVID-19 cases for the week of Aug. 31-Sept. 4; all of them were students. The university conducted 1,557 surveillance tests and 125 positive tests resulted. This is an 8.03% positivity rate among the random students tested. There have been no plans to close the campus that offers a mix of online and in-person class options to students. The University will ramp up its surveillance testing to 450 viral tests per day this week.
Kings County California is just south of Fresno. The complicating factors in this region are the numerous wildfires in the state, "unhealthy air alerts" due to smoke, and the Hills Fire on the border of the county over the past weeks. The LRI of 19 with a 7vs7 ratio of 2.0 indicates this regional "hotspot" could soon erupt into a severe outbreak. The activities of fire crews, volunteers, and evacuees from other fire areas all bring circumstances where spreading of COVID-19 could become prevalent. This is evident in the rapid rise and fall in the testing positivity over the last 30-days.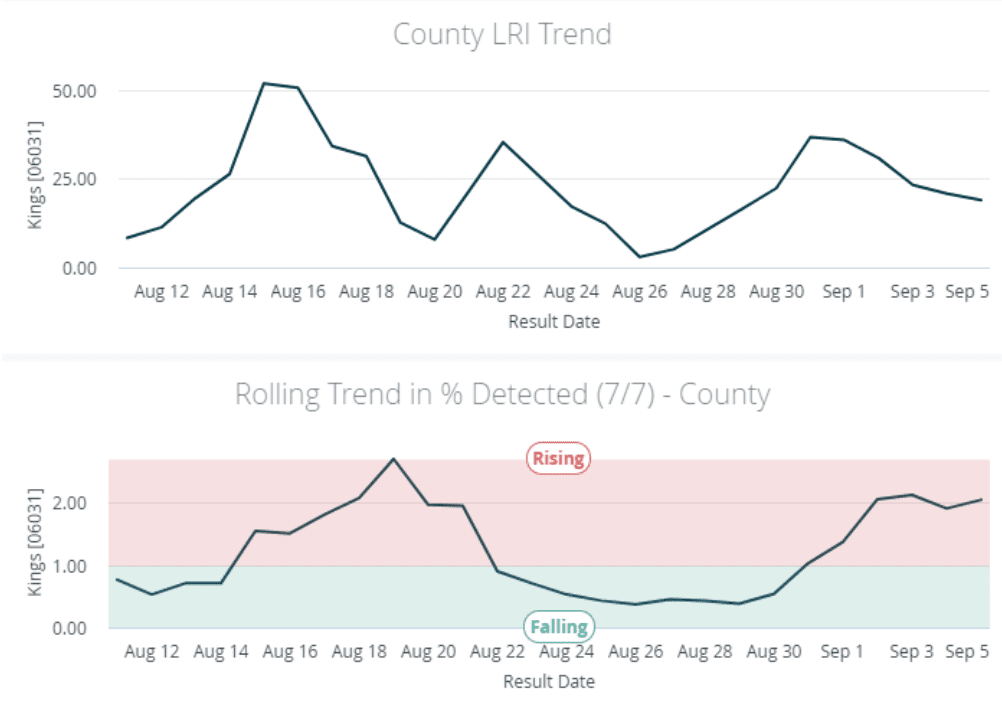 Finally, the State of Florida shows 3 counties on our hc1 Top 10 County watch list.
While the state average LRI has finally settled down to 10.1 after a long summer of high LRI ratings (as high as 18.6 7-day average in late July), we need to watch ifresidual higher rates reignite after the Labor Day activities. The panhandle portion of the state has three metropolitan areas that are ready to go back into ranges >40 LRI if the weekly 7v7 rate continues (2.5-3.3). This includes Santa Rosa County (Pensacola), Leon County (Tallahassee) and Clay County just southwest of Jacksonville.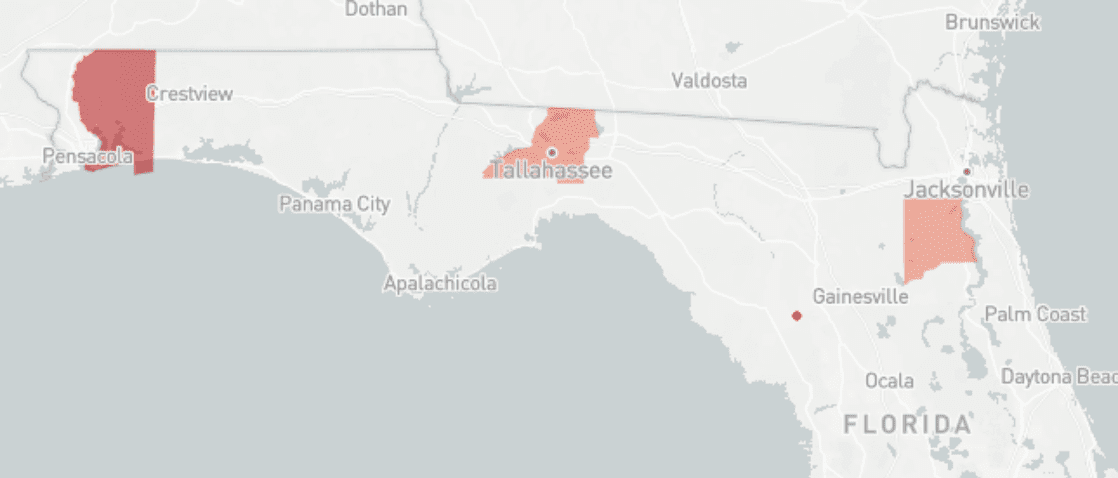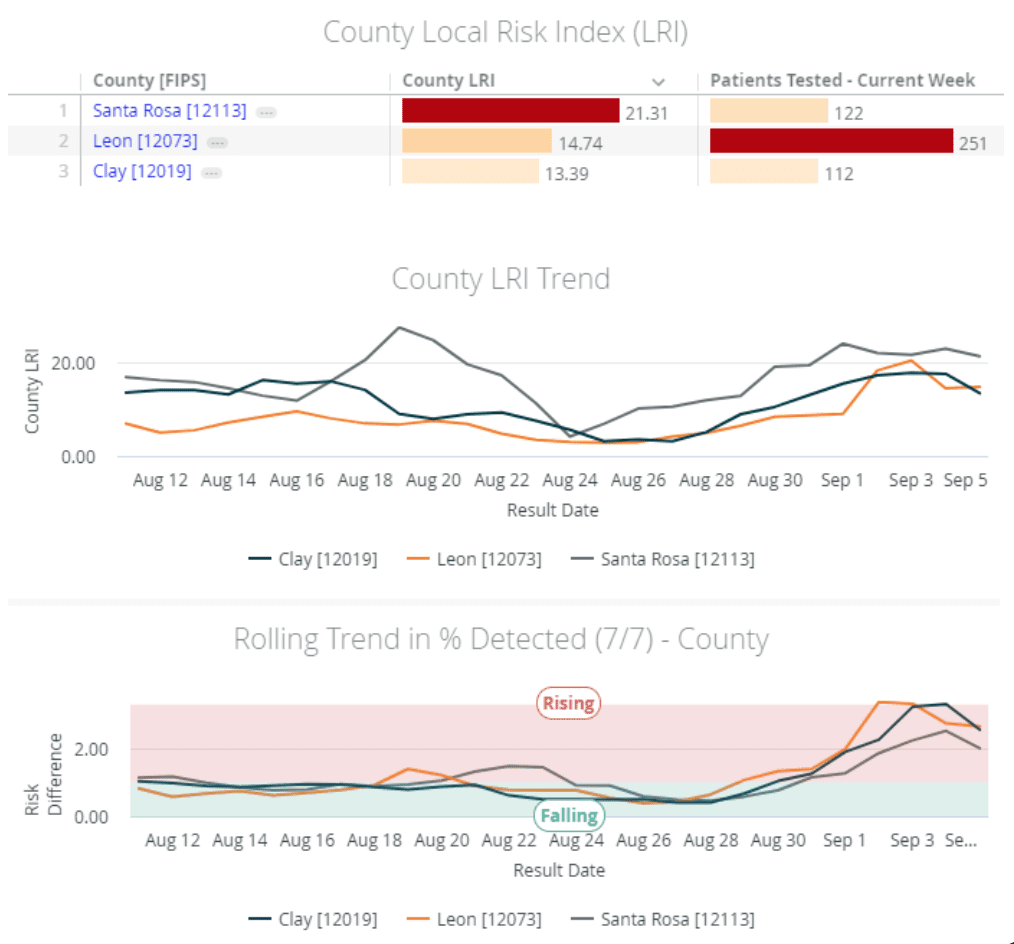 Register to gain access to the dashboard and learn more about the Local Risk Index in your area at cv19dashboard.org.
About the Author
Peter J. Plantes, M.D. has three decades of experience creating service and delivery solutions that enhance marketplace success and clinical performance for clinical practice groups, academic faculty group practices, hospitals, health systems, and health care organizations. His success stems from his ability to blend and synergize clinical knowledge, operational expertise, financial performance, and collaborative methodology with his deep commitment to serve patients and improve the health of the community. Dr. Plantes has served in CEO & Physician Executive roles for a number of large healthcare clinical delivery networks including regional community networks, academic practices, national hospital networks, international health systems (Chile, Colombia), and corporate managed care/HMO networks.