09/04/2020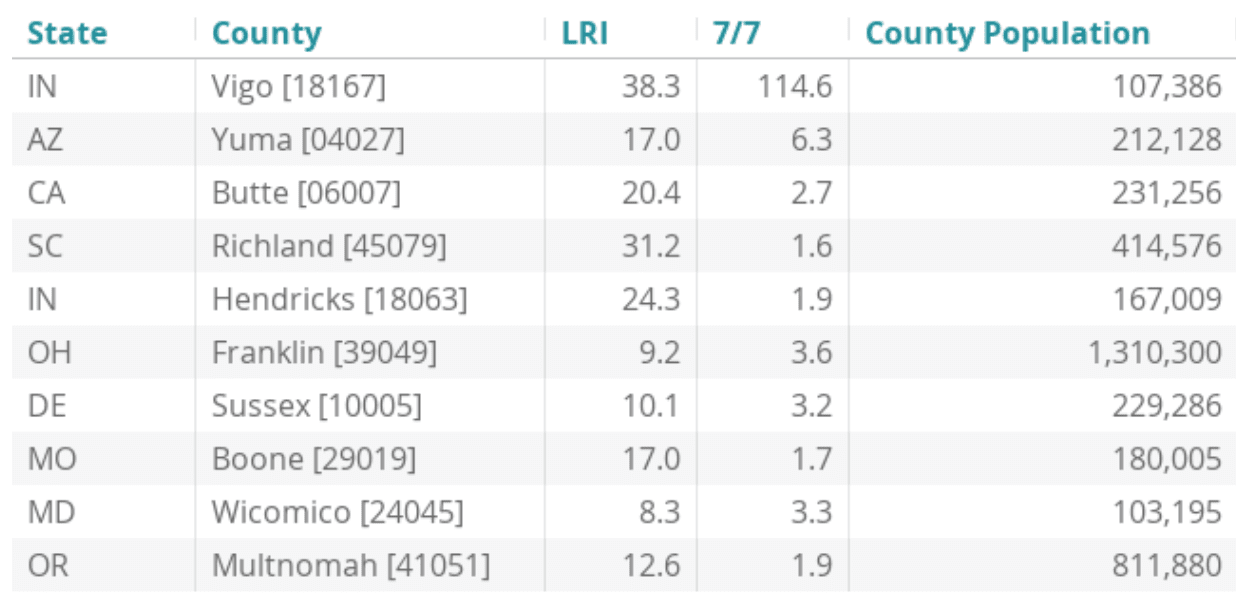 Going into the long weekend we need to closely watch two areas of Indiana. The region around Terre Haute, IN (Vigo County) has had a very low sustained Local Risk Index (LRI) of 2 to 5 in the CV19 surveillance system throughout the month of August. But starting just last week, the rates of LRI have soared into the mid-30s to as high as 42! The ratio of the current 7-day average to the previous 7-day average of LRI (7vs7) of 116 is one of the highest we have seen in the US.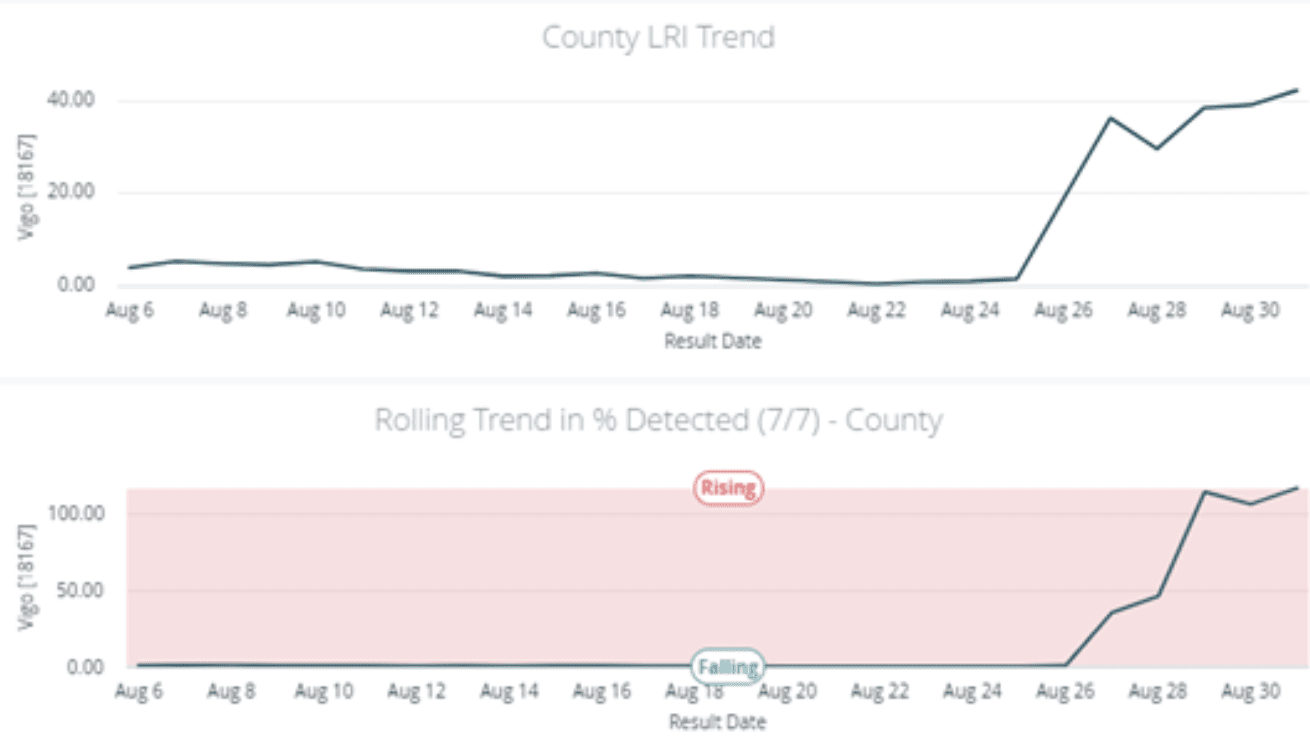 Over 200 COVID-19 Viral tests were performed so this is not a limited outbreak, but a real hot spot. If Labor Day has folks experiencing unprotected contact in this region (no masks, no distancing, and large crowds), there is a significant chance for a major "super spreader" situation then impacting a much larger region and population by mid-September.
The other region to watch is Hendricks County in Indiana, just west of Indianapolis covering the suburbs of Brownsburg, Avon, and Plainfield. LRI rates there were >24 in the past 7-days with the 7vs7 rising in the range of 1.9 to 2.0. Therefore, the infection rate on testing is essentially doubling every 7-days. Again, going into this weekend the behaviors we saw on Memorial Day and July 4th weekends could really fan the flames of this already significant 'hotspot' and turn it into a raging suburban inferno.
Yuma Arizona is not only very hot temperature-wise, but also in terms of COVID-19. The southern border county was doing a good job in bringing rates down, but over the last week the LRI has rocketed-up from 2 to as high as 18. With a 7vs7 already greater than 6 (i.e. LRI has increased 6-times higher in a week), we could see a very bad situation post-Labor Day weekend in this border community.
Finally, the Columbus Ohio region (Franklin County) is the largest population region in the Top 10 emerging hot spots. Going into this dangerous weekend, the traditionally "safe county" with LRIs in the 2 to 4 range, has shot up into the range of 11-15. Even before the exposures that are sure to occur this weekend, the 7vs7 has been as high as 16 and is maintaining a level >5. The '7vs7' of 5 over the next week could launch rates in the next 2-weeks to 30-40 or even higher. This is a metropolitan area that could experience what New York City experienced in March and April.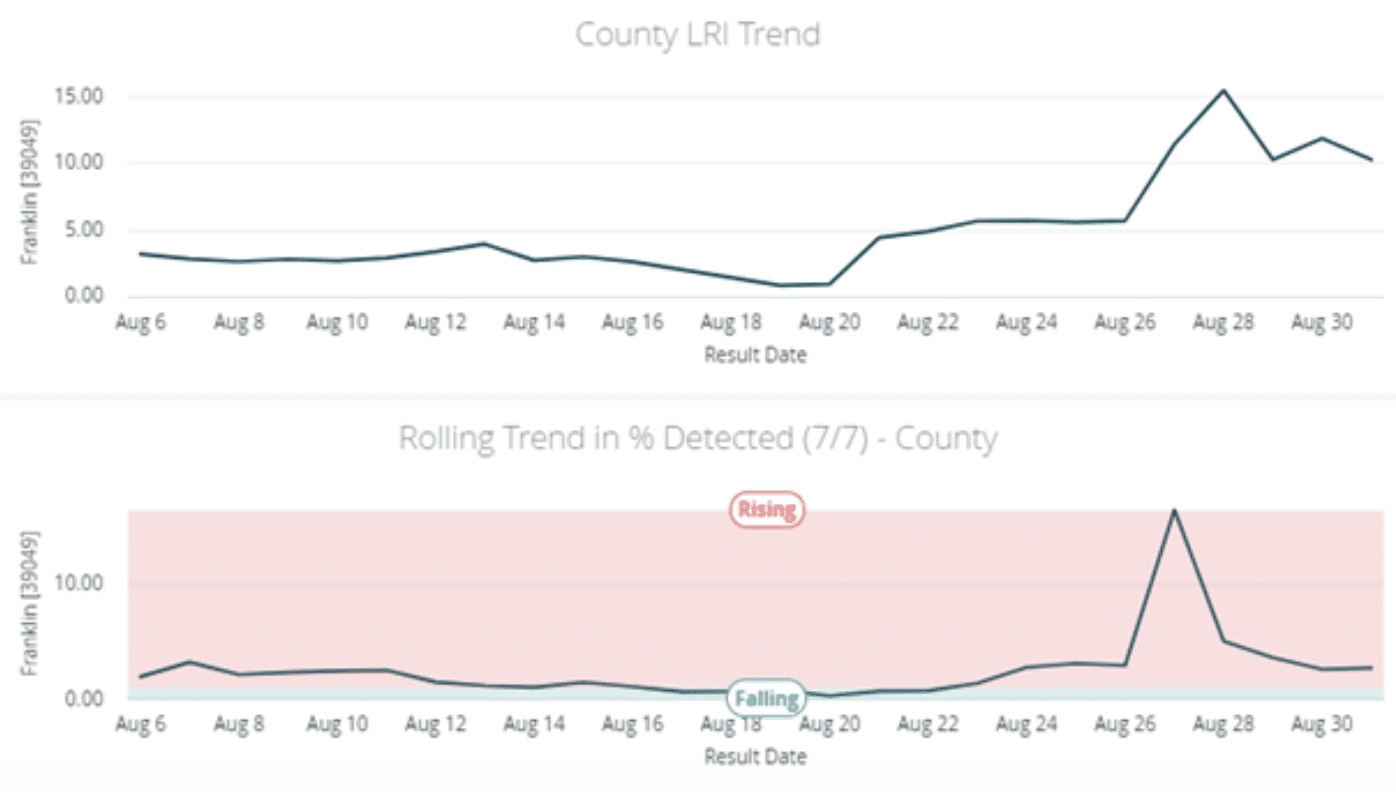 About the Author
Peter J. Plantes, M.D. has three decades of experience creating service and delivery solutions that enhance marketplace success and clinical performance for clinical practice groups, academic faculty group practices, hospitals, health systems, and health care organizations. His success stems from his ability to blend and synergize clinical knowledge, operational expertise, financial performance, and collaborative methodology with his deep commitment to serve patients and improve the health of the community. Dr. Plantes has served in CEO & Physician Executive roles for a number of large healthcare clinical delivery networks including regional community networks, academic practices, national hospital networks, international health systems (Chile, Colombia), and corporate managed care/HMO networks.