August 16, 2023
My dad, cousin and grandfather all served in the United State Air Force, so the military has always been a big part of my family. I have immense respect for our soldiers and though I have never served in the military, I have always had a calling to honor our veterans.
I first learned about the Indy Honor Flight (IHF) about 13 years ago. I read about it in the paper (yes, an actual newspaper) and loved the concept of celebrating these veterans in such a unique way.
Indy Honor Flight is a non-profit organization created solely to recognize Indiana's veterans of WWII, Korea and Vietnam for their service and sacrifice by transporting them to see the memorials built in their honor in Washington, D.C.
The Indy Honor Flight is free for the veteran and is all donation based. You can imagine my excitement when I learned that my kids' elementary school donates a portion of their annual fundraiser to IHF. The donations generated are enough to sponsor at least two veterans each year. As a guardian for IHF, my expenses are not covered, so I reached out to my Facebook community for donations to help cover my costs (all donations to IHF are tax deductible). Within 12 hours, my friends and family had donated enough to fully fund my guardian position for the trip. I was so appreciative!
Ten years ago, I noticed a gentleman in a Vietnam Veteran hat at a Zionsville Community High School (ZCHS) basketball game. He was sitting a few rows in front of me, so I took the opportunity to approach him, shake his hand and thank him for his service. He had the most genuine smile when he said he appreciated the comment and thanked me.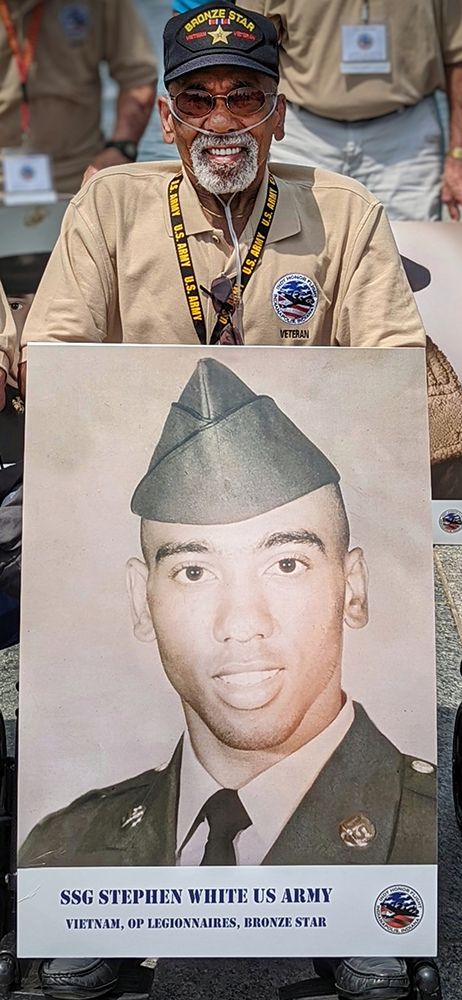 Fast forward a year and many conversations later with who I would eventually learn was Mr. Steve White. Unbeknownst to me, "Mr. Steve" was a local celebrity at ZCHS. He worked in the cafeteria, and all the high school students knew him. He'd share his Vietnam experiences with the history class at ZCHS, complete with newspaper clippings, pictures and his medals, of which there are many! Everyone seemed to know him. We somehow got on the topic of the Indy Honor Flight. I said being a guardian on one of those flights was at the top of my bucket list. He mentioned he had just submitted his application for an honor flight. We continued to talk about it every time we saw each other, which was about every Friday night during high school basketball season.
"You hear anything yet?"
"Nope. You?"
"Nope."
"Well, if I get the call, I'm not going without you."
"Same."
Due to the pandemic, there were a few years with no honor flights, which delayed both of us being selected. The selection process for veterans is a bit different than that of the guardians. The eligibility requirement is simple: one must have served during wartime and needed to have been enlisted during years when there was a conflict but didn't have to see combat. Due to age, the folks from WWII had priority, followed by the Korean War vets, then Vietnam vets. Health is also a factor. Every effort is made to ensure any veteran who wants to go has the chance before they are unable to travel.
While working from my home office one day, I received a call telling me I would be on Indy Honor Flight #34! I couldn't believe it! I immediately called Steve, who had just received his call right before me. You would have thought we'd both won the lottery.
From that point on, it was a whirlwind. We had to meet with our bus captain to find out all of the details of what this adventure entailed. Steve was on oxygen, so his sister, Cindy, was involved every step of the way to make sure her brother was well taken care of.
There's a pretty rigorous process to become an IHF "ground crew" volunteer and even more so to become a guardian. A guardian is a person who accompanies the veteran on his/her flight. The veteran's safety always comes first, which is why every ground crew volunteer must attend training before they can participate. Being a guardian comes with additional responsibility, therefore, additional training. To become a guardian, you must submit an application and be approved. Each veteran must have a guardian who has completed the training. A veteran's spouse cannot be a guardian on the trip, so some veterans ask other family members to serve as their chaperones. Some vets don't have that option, so they can choose someone to be their guardian or have one provided through IHF. Then there was the veteran who chose a random lady who approached him at a basketball game.
I finished all of my training and attended all of the pre-event meetings. I was ready. Steve was more than ready. Indy Honor Flight #34, here we come!
The night before the flight, Steve, Cindy and I attended a dinner for all veterans, their chosen family member and IHF guardians and chaperones. We met the other vets who would also be on our bus (there were 3 buses of veterans and chaperones). We had a great meal provided by the ISO and received a quick overview of what we could expect for the following day.
What happened the next day was something I can't describe. From the time I picked Steve up at 4:00 a.m. until I returned home around 11:00 p.m., it was the most rewarding and humbling experience I've ever had in my 46 years on this earth. Saying it was a life-changing experience doesn't do it justice. (I won't share spoilers about everything we did that day, in case future IHF guardians or veterans are reading this!)
Let's just say the emotion, dignity and comradery of these men and women is absolutely breathtaking. While pushing Steve in his wheelchair up to the Vietnam Veterans Memorial wall, he turned to me and said, "Go slow. I'm not sure how I'll handle this." At that moment, I realized this wasn't just a piece of American history for him like it is for many of us. This was "his" personal history. He lived it. He searched for names of friends he served with and, sadly, was alongside them when they earned their names on this wall.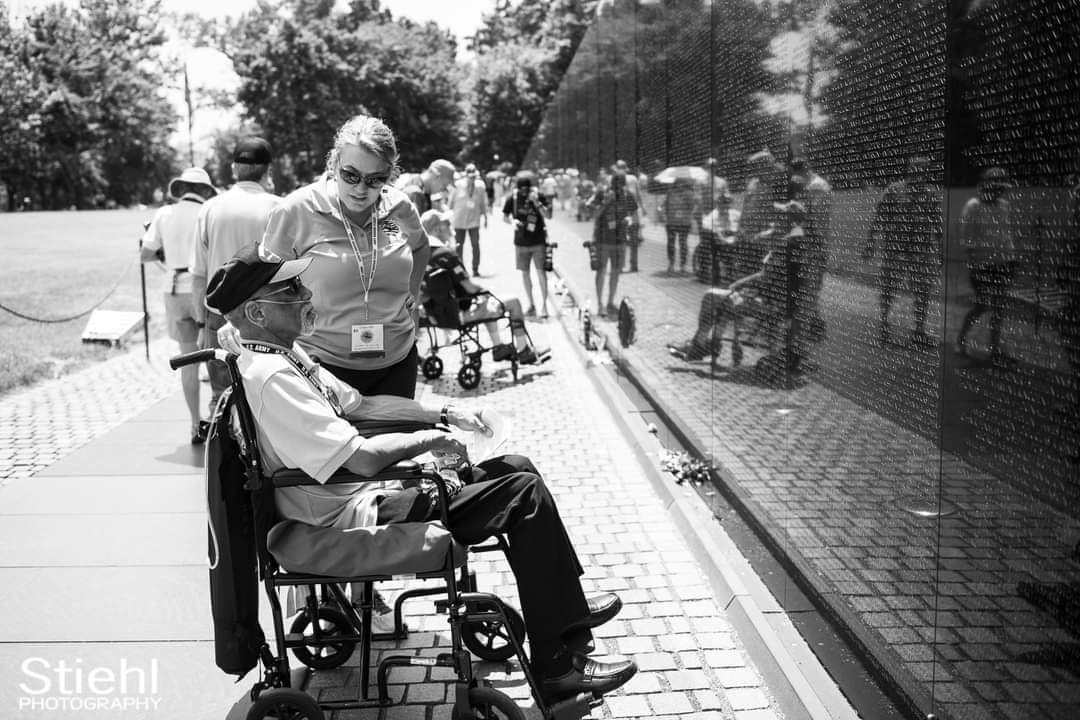 Photo: Stiehl Photography
Steve and the other veterans taught me more than any history book ever could. They shared the sad, the scary, the emotional and even a few good times. These Vietnam veterans who were treated so poorly when they returned from combat finally got the honor and respect they deserved. The stories they shared throughout that day made that even more evident.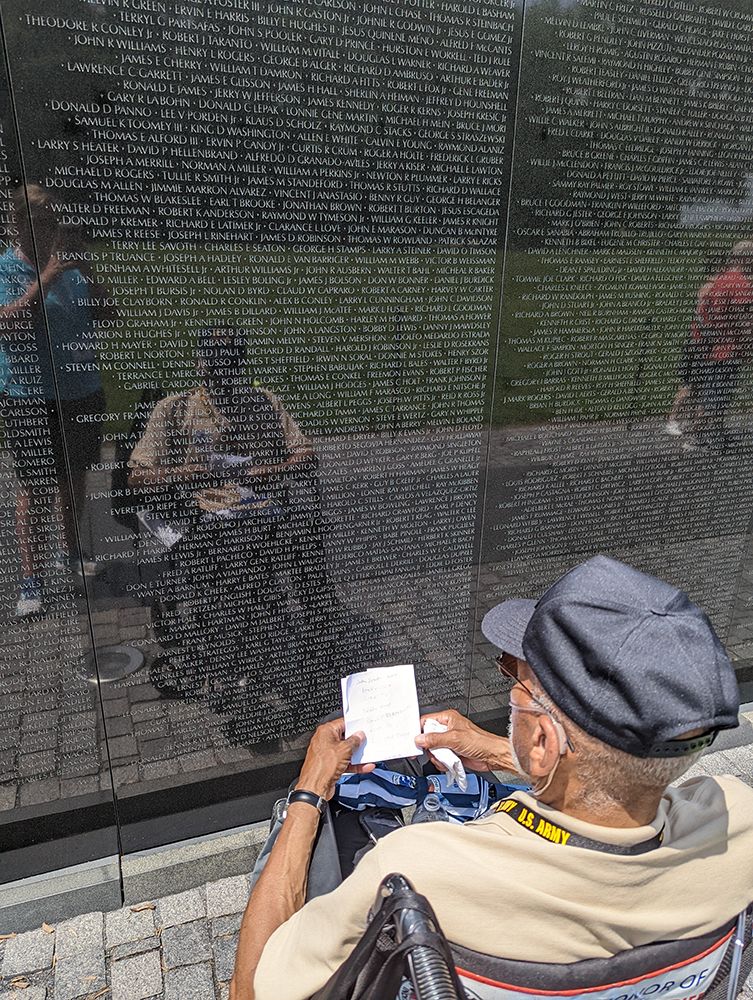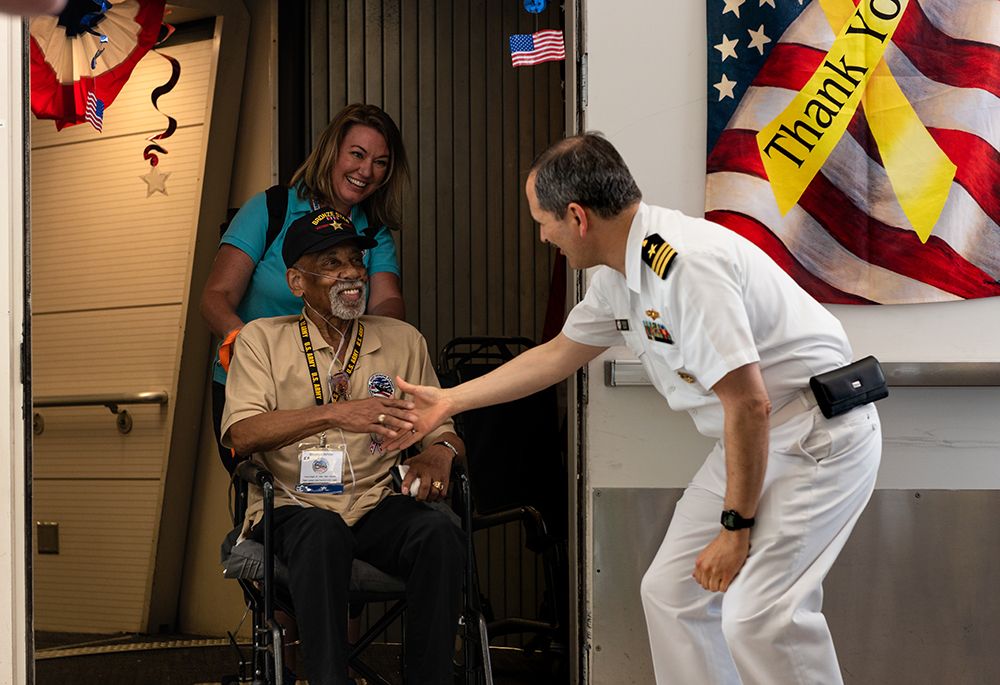 Photo: Indy Honor Flight
Just a few months ago, Steve passed away. The wisdom, kindness and honor of this man are unmatched. My world is slightly less bright without his electric smile and abundant grace. I will never forget the time I spent with him. I know the honor in "Honor Flight" is supposed to reflect the honor we are bestowing on the veterans. However, the honor was all mine. I was blessed with the privilege of sharing my IHF experience during Steve's funeral. I was overwhelmed by the number of people who thanked me for being a part of the experience with Steve. My experience with Steve began with "thank you" and ended with "thank you." How beautifully ironic.
My time with Indy Honor Flight has not ended. I am looking forward to chaperoning another hero soon. I'll continue to serve on the ground crew until the guardian opportunity comes around. And although Steve won't be with me physically, you can bet he'll be on my mind and in my heart the entire journey.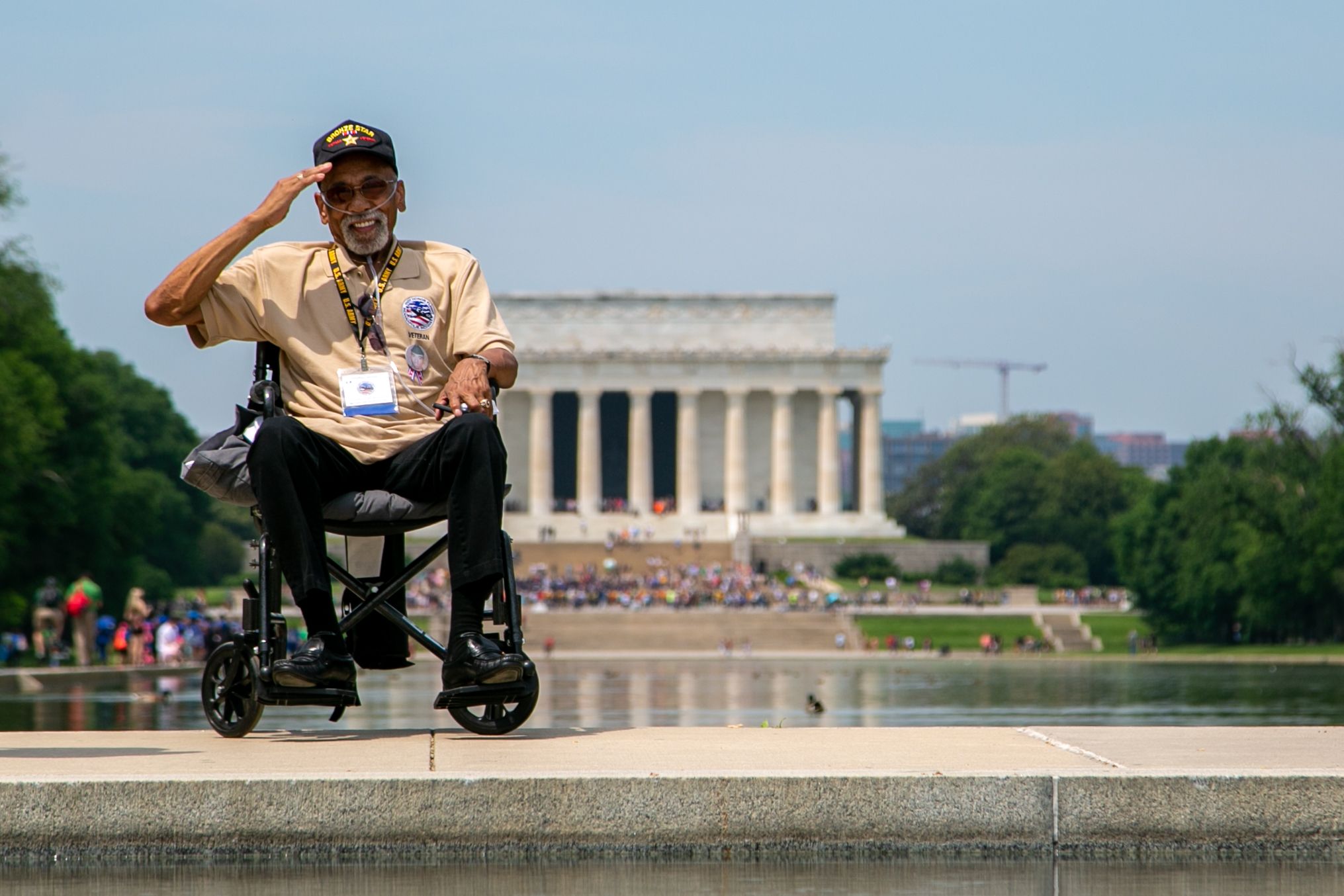 Photo: Indy Honor Flight
In honor of my time with Steve and to continue the mission of IHF, I am sponsoring a guardian every year in Steve's memory. I was very fortunate to have friends and family that funded the guardian fees for my trip. I realize not everyone is that lucky. It would be devastating if a guardian could not participate due to a lack of financial means. This trip doesn't just change the lives of the veterans. It changes everyone privileged enough to be involved.

Photo: Indy Honor Flight
So say hello to the older folks at the basketball game. Share your admiration with someone. Find commonalities with a stranger. Trust me, if you don't, you could miss out on an adventure of a lifetime. For more information on the Indy Honor Flight, visit indyhonorflight.org.