April 8, 2022
If you're a professional coach or athlete you expect your physical and mental wellness to be your work focus. If you're a personal trainer, physical therapist or psychologist, for example, you also expect your mental well-being to be intertwined with your daily work.
Physical and mental well-being are two big attributes in our lives, but what about those of us with jobs that have nothing to do with athletics, coaching or physical or mental training? According to the latest information from the Federal Bureau of Labor and Statistics, Americans spend roughly 24% of their time in any given work week, remote or in-person, working. This results in nearly a quarter of our lives each week being devoted to our employment. So, what happens when that 24% is not being mindful of physical and mental well-being?
Let's face it, most places of employment, until recently, have not invested in the physical and mental wellness of employees. Yet the CDC states that worksite wellness programs promoting physical activity can help create healthier employees, as well as proactively lowering healthcare costs for both employee and employer.
Worksite wellness programs can also:
Increase employee productivity
Reduce absenteeism
Increase employee morale
Help attract and keep high-quality employees
Mental wellness in the workplace has become more prominent, to the point that a one-of-a-kind center recently opened at Johns Hopkins dedicated specifically to mental wellness in the workplace. The Johns Hopkins Psychosocial, Organizational and Environmental (POE) Total Worker Health Center is devoted to improving workforce mental health. According to the POE, workplace mental health took on more importance and visibility during the pandemic, when remote work and high-risk work environments caused or exacerbated workers' psychologically and behaviorally.
Daniele Fallin, Ph.D., co-director of POE noted that the pandemic brought workplace mental health issues to light for a lot of employers, specifically first responders and health care workers, but other employers became aware and started paying attention too.
Michigan State University identifies several ways to promote workplace wellness through easy and practical solutions for staying fit during working hours such as three-minute low-impact activities that have been proven to increase brain cognition and decrease the risk of serious health problems forming. The benefits of incorporating and encouraging positive physical health practices while working provide a win-win for both employer and employee.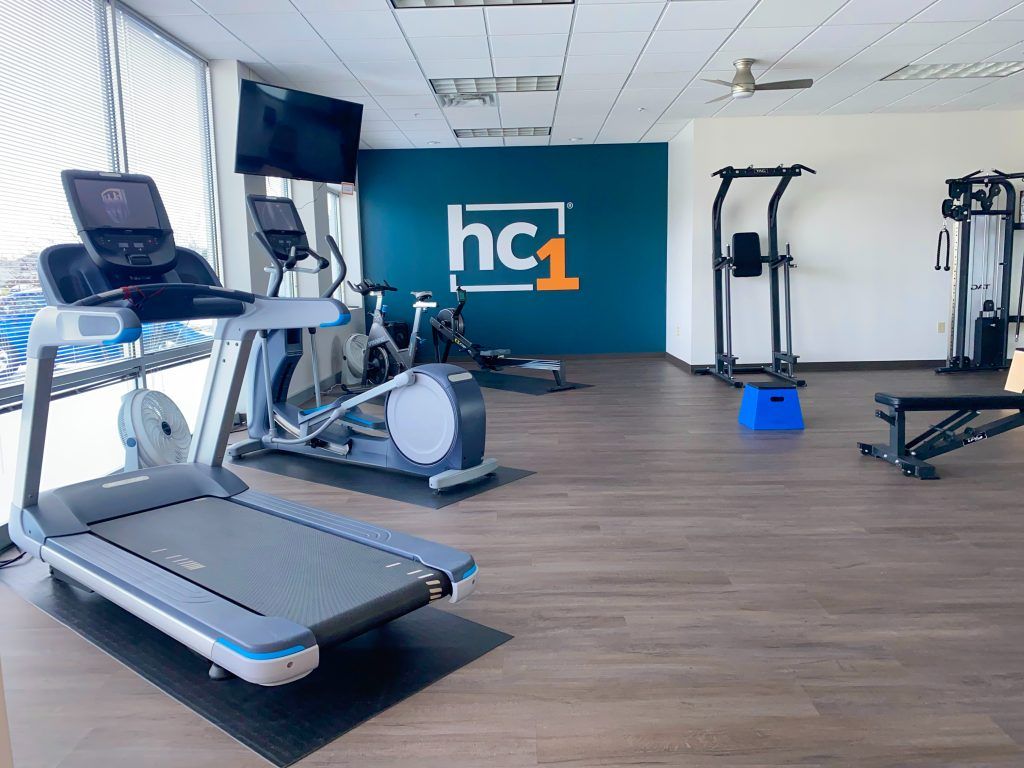 hc1 founder and CEO, Brad Bostic believes in an "exercise your mind, exercise your body" philosophy and expanded his dedication to precision health even further when it comes to those working at hc1 headquarters. Every employee has free access to a personal trainer on-site and a fully equipped gym. The culture of hc1 is employee-centric. Employees are encouraged to regularly move their bodies by visiting the gym at any given time throughout the day, after hours or on weekends, or simply taking frequent walks away from workspaces to break up time spent sitting. Staff is also encouraged to utilize workstations that best suit their personal health and wellness, such as stand-up or treadmill desks. Employees may take advantage of quiet time in one of several dedicated spaces that are aesthetically pleasing allowing focus and meditation, or just a few minutes to clear their heads.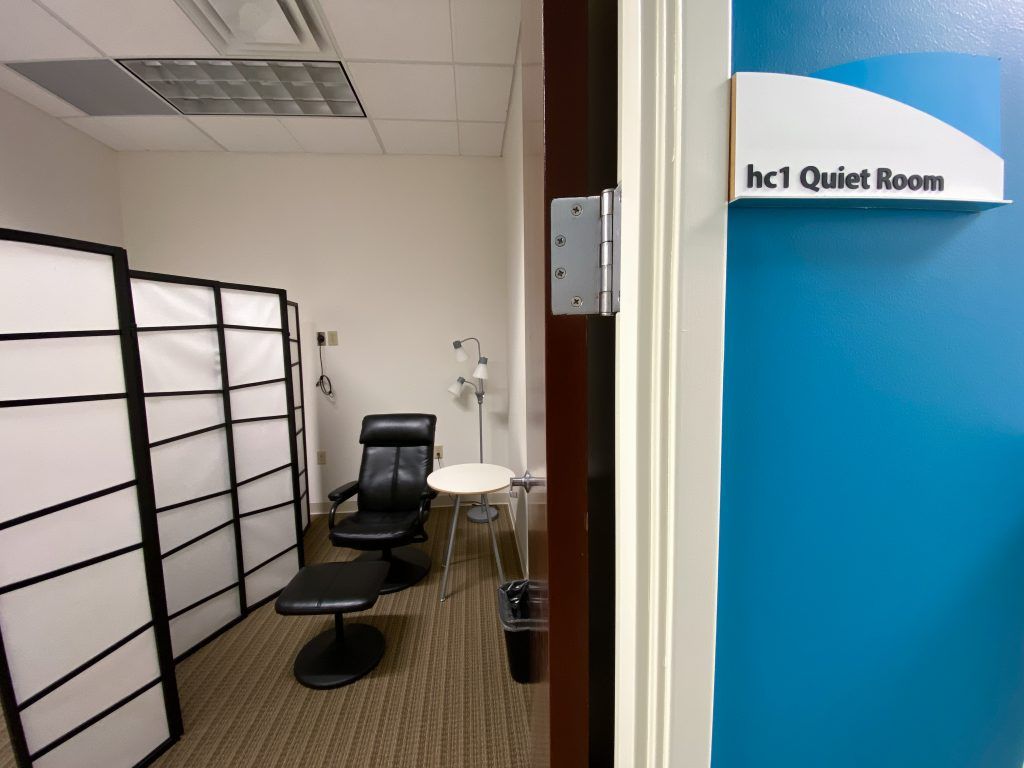 Many employees enjoy access to hc1's on-site personal trainer, Kristy Pingel, BS, Exercise Science and Physiology, who provides one-on-one personal training sessions. This is one of the perks available to every employee each week, with the option of additional weekly scheduled sessions before or during work hours. Pingel said, "coming into the gym is a way for employees to decompress. It provides an outlet for them to focus on themselves, forget about meetings or personal stressors and invest in their own wellness for 30 to 60 minutes. Others simply enjoy kickstarting their mornings by working out to set a healthy tone for the day. They always seem to leave with a higher sense of accomplishment and ready to take on the rest of their day with confidence and positive energy."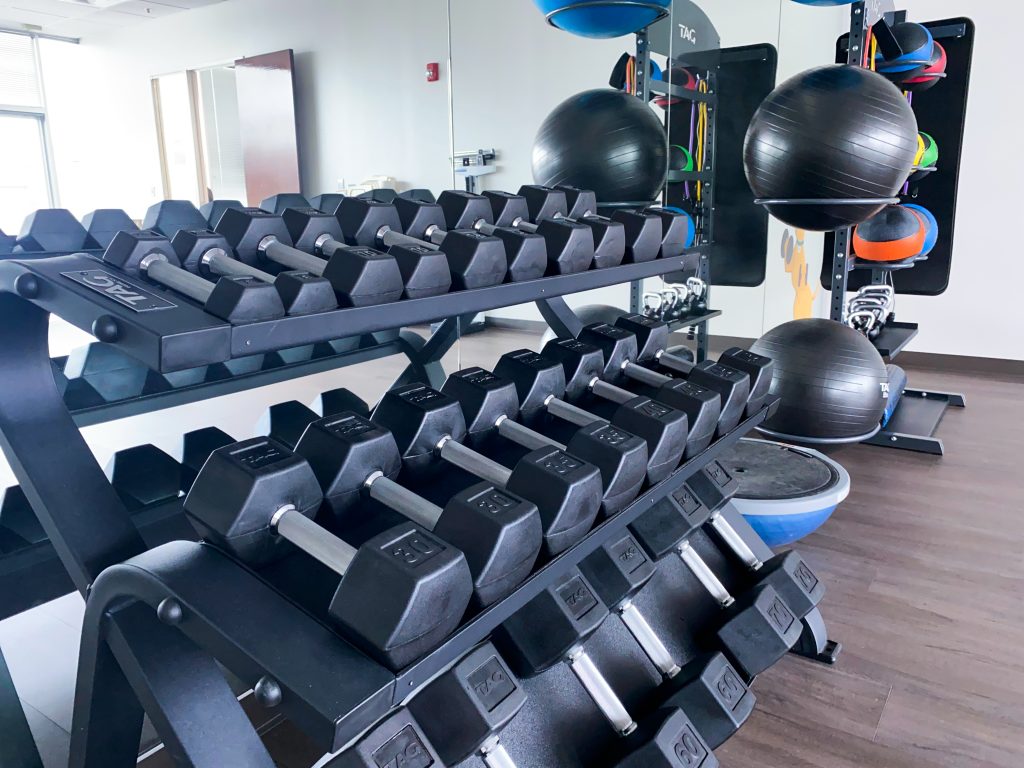 Aligned with hc1's business vision that every patient should be treated as a unique individual it's also true that each individual employee is different. Pingel assesses each person, takes into account their level of fitness and overall wellness and guides and oversees their workout to help achieve the individual's maximum desired goal they've set for themselves.
For those not seeking a structured fitness regime with Pingel, employees have access to the gym freely each day or anytime after hours and on weekends to work out. A boxing heavy bag, basketball area, treadmill and ping pong are also available to employees at any given time in the recreational meeting area of the hc1 headquarters.
hc1 also recognizes the benefits of being Curious, Accountable, Collaborative, Ethical (CACE) which additionally fosters the mental wellbeing of employees. This is made possible and encouraged daily in various ways by hc1's Team and Talent department from the time a new employee begins onboarding and throughout their employment. TnT fosters getting to know each individual employee, asking what they need and encouraging working hard, but having fun, too. Employees at hc1 are not just coworkers, but also a collective team that succeeds and celebrates together through supportive methods that enhance both professional and personal well-being.
Interested in joining the hc1 team? Check out these currently available positions.