June 16, 2020
In April, the hc1 Local Risk Index™ (LRI) debuted as part of the CV19 Lab Testing Dashboard™ powered by hc1®. The dashboard reports the percent (%) of those tested by nasal swab for the COVID-19 virus in the current week that show a detected (+) test and then calculates the LRI from this percent (%) detected rate. A major advantage of the CV19 Lab Testing Dashboard is the ability to report this "earliest indicator" of the risk of being exposed to another person with COVID-19 (symptomatic or asymptomatic) down to the granular level of county and sub-county geography. The graphing of LRI levels over time enables users to track the trend in risk levels and the rate at which risk is rising or falling over time.
LRI and hc1's other geographical risk metric insights are based on the current week detected rates for viral testing. The detected rates serve as an indicator of the current level of active viral infection in an area, and the trend in detected rates indicates how the level of active infection has changed over time.
At a national level, the LRI is nice to know, but at a county or sub-county (Public Use Microdata Area (PUMA)) level it provides actionable insights local officials, healthcare professionals, and employers can use to defend against the COVID-19 pandemic. With COVID-19 spikes being reported across the country, we took a retrospective look at LRI trends for some of the hot spots we've been hearing about.
Arizona

Texas

North Carolina

In retrospect these LRI trends reflect today's news, but how can LRI be used to take action that quickly flattens the curve before it's a headline?
Frequent monitoring at a local level is key. LRI is updated daily. The LRI score indicates the current level of active infection in an area and, by extension, the risk that individuals in that area face of contracting the virus. An upward trend in LRI serves as an early warning that the prevalence of infection may be rising in an area. A downward trend in LRI indicates that the level of infection is falling.
By regularly monitoring the latest LRI trends, public health, public policy, healthcare, and laboratory decision-makers can have a better understanding of when and where to enhance broad community viral testing and use of nonpharmaceutical interventions to confront the local impact of COVID-19. As businesses and universities reopen, employers can take action with clear policies that include lab testing, symptom checks, and risk-aware plans based on LRI.
Where is LRI available?
Public health, public policy, healthcare, and laboratory decision-makers can view national, state, county and sub-county LRI trends by requesting access at CV19Dashboard.org.
Everyone in the public can view daily county-level LRI trends using the COVID-19 Action Tracker.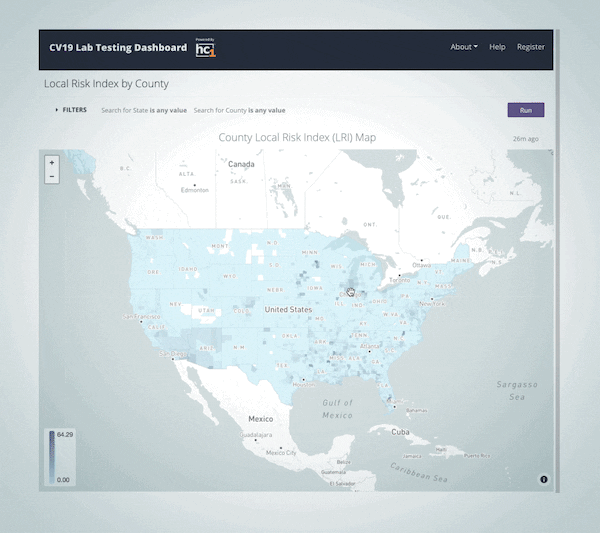 Employers, education systems, and large organizations can use hc1 Workforce Advisor™ for employee and student-specific LRI insights. With hc1 Workforce Advisor's hc1 CV19 Command Center, employers can quickly make decisions related to individual employees and students based on the risk where they live and where they work or attend school. The power hc1 Workforce Advisor has to pull data on community viral and antibody testing in the majority of the 3,007 counties across the US brings particular benefit to national employers and organizations that have offices scattered throughout the country.
How is LRI calculated?
The LRI is a ratio of the current week percent (%) detected positive (+) for SARS-CoV-2 viral RNA antigen divided by the baseline percent detected where epidemiological control can be secured in a region by containment (quarantine) efforts alone.
Current week percent (%) detected is a measure of the percent of patients who tested positive (+) during the current week. It is calculated by dividing the count of patients whose viral test results showed the presence of the SARS-CoV-2 virus antigen during the past four days of complete data by the total count of patient test results reported during the same period (Detected Results / Total Results = % Detected).
The baseline percent detected is 1% for all counties. hc1 chose a 1% baseline detected rate, because 1% prevalence is the epidemiological threshold below which outbreaks of respiratory viruses like SARS-CoV-2 can be controlled by containment measures alone (identify, quarantine, and trace contacts) versus requiring broad mitigation measures (social distancing and other nonpharmaceutical interventions).
The State/County/PUMA LRI Trend tracks the trend in the LRI for the area over time. It provides the trend in historical LRI scores that are calculated daily, showing how the rate of active infection has trended over time in a region relative to the 1% baseline.
The Rolling Trend in % Detected (7/7) is calculated by dividing the average detected rate for the past 7 days by the average detected rate for the 7 days prior to that period (i.e., days 8–14 or "week-over-week"). This ratio is calculated daily based on a rolling 14-day window, and then plotted over time to show the trend day-over-day.
Want to learn more about LRI? Watch this video.
About the Author
Peter J. Plantes, M.D. has three decades of experience creating service and delivery solutions that enhance marketplace success and clinical performance for clinical practice groups, academic faculty group practices, hospitals, health systems, and health care organizations. His success stems from his ability to blend and synergize clinical knowledge, operational expertise, financial performance, and collaborative methodology with his deep commitment to serve patients and improve the health of the community. Dr. Plantes has served in CEO & Physician Executive roles for a number of large healthcare clinical delivery networks including regional community networks, academic practices, national hospital networks, international health systems (Chile, Colombia), and corporate managed care/HMO networks.